Early diagnosis and treatment may save your horse's life. Colorado Equine Veterinary Service has the facilities, knowledge, and know-how to diagnose problems and help you decide on a course of action. CEVS offers comprehensive equine Diagnostic, Preventive, and Reproductive Services, as well as general Medical Services. We have the capability to provide hospitalized care for a variety of critical care patients including those requiring intravenous fluid therapy and antibiotics.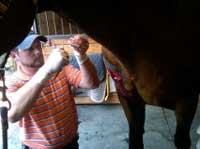 Additional professional services include: Bloodwork, Video Gastroscopy, Video Endoscopy, Digital Radiography, and Digital Ultrasound. Our investment in the Olympus 3 M Gastroscope, Olympus 1.5 M Upper Airway Endoscope, and the Universal Mylab-30 Ultrasound allows us to provide "state-of-the-art" equine diagnostics in Southern Colorado.
Field Surgery
Prompt attention and proper care are important when your horse has an accident.
Our ambulatory practice, supported by well-equipped veterinary trucks and a fully equipped diagnostic lab, allows us to care for your horse in in the field or at our hospital.