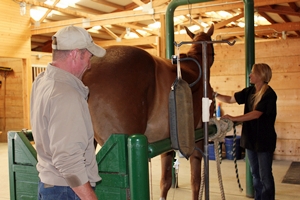 If you are planning to use artificial insemination, your vet may perform an ultrasound to more accurately predict when to inseminate. Timing is critical. You need to be aware of what stage your mare is at to optimize the chances of achieving conception.
Artificial Insemination can be used to breed mares with fresh, cooled or frozen semen. Discuss your options with your equine veterinarian.
The use of Artificial Insemination can prevent the transmission of infection and lessen the risk of injury to both the stallion and the mare.
Some advantages of Artificial Insemination?
Disease control
Reduce risk of injury
Reduces need to transport mares
One stallion can usually breed more mares, both with a single ejaculate and over an entire breeding season
The use of semen that is available to your mare at the correct time
You have more flexibility to use a stallion, with proven ability, to pass on desirable characteristics
Some disadvantages of Artificial Insemination
Specialized equipment is needed
Technical expertise is needed
Incorrectly practiced, AI can cause problems
Not all breed societies accept this type of breeding.
Talk with us about developing a breeding program that is right for you.