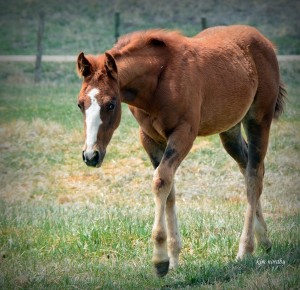 If you are considering breeding your mare, your first step should be to talk with CEVS.
They can help you understand what to expect and work through all of your options. Once you decide to put your mare in foal, arrange for a breeding examination. It may save you money, a great deal of frustration and disappointment.
Selection of the Stallion and the Mare
Both mare and stallion contribute 50% of their genes to the foal, but the mare's behaviors and attitudes shape foal behavior. Quality stallions are promoted vigorously – interested breeders have access to race records, show ring wins, or value of foals sold. The quality of the mare is important. Breeding a mare because she's too lame to continue performing is NOT a wise decision. Breeding a mare with poor conformation to a stallion with great conformation, but a lousy temperament, MIGHT yield a good natured well-built foal, but may yield a lame foal with a bad temperament, and will most likely result in something in between. Always breed the best mare you can find to the best stallion you can afford.
Regardless of breed, good conformation is vital to ensure a sound horse capable of athletic performance. Conformation standards exist for each breed, and associations have illustrations of the ideal individual as a guide. Seek advice from impartial, knowledgeable horsemen – breeders, and judges. The veterinarians at Colorado Equine Veterinary Services can help you in the selection of quality animals.