Traci Bland
Traci was raised on her family farm in south Georgia. Their family has a commercial cow-calf operation that she and her father started when she was in High school. Traci has a lifelong love of animals that led her to pursue an Undergraduate degree in Animal Science from the University of Georgia. While there she worked at UGA's equine reproduction unit. Traci served as a committee member and co-chair for the Great Southland Stampede Rodeo two years and was a member of the livestock judging team. After graduation she interned at the 6666 Ranch horse division in Guthrie, Texas as a breeding intern. Traci is excited to be here at CEVS. Her approach is to treat each patient with compassion.
In her free time, Traci enjoys spending time with her fiance, their two dogs, and their families, going camping and hiking, pursuing photography, and being creative.
---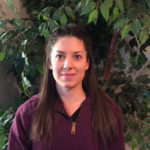 Meredith Thompson
Meredith grew up in Illinois participating in the local 4-H program and moved to Colorado in order to attend Colorado State University. While attending CSU, Meredith participated in the Horse training and Sale preparation class ending in the Legends of Ranching Sale and interned at Hearts and Horses Therapeutic Riding. Meredith graduated from Colorado State University with a degree in Equine Science and has externed at both large and small animals while attending school to help further her aspirations of becoming a veterinarian. In her free time, Meredith enjoys hiking with her German Shepard, horse camping up in the mountains and preparing her horse for the eventing season.