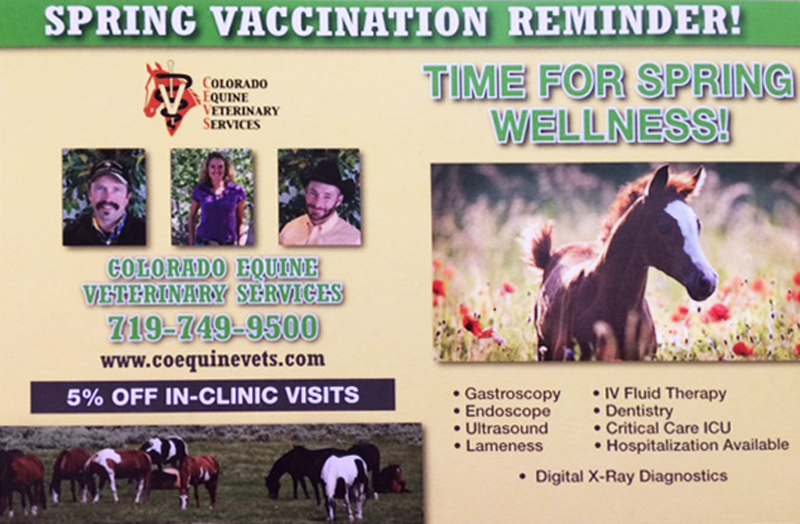 Vaccinations
Eastern Western Encephalomyelitis/West Nile/Tetanus Toxoid to be given in spring to protect against mosquito born disease
Rhino/Flu booster should be given in the spring
Rabies vaccine should also be given if not given the previous fall
Fecal analysis should be performed to determine the appropriate deworming protocol
Worming
Protocol for Adult Horses (Greater Than 3 years old):
Low Shedders (0-199 Eggs Per Gram of Feces)
May 1: Ivermectin
November 1: Ivermectin + Praziquantel (Equimax, Zimectrin Gold)
Medium Shedders (200-500 Eggs Per Gram of Feces)
May 1: Ivermectin
August 1: Pyrantel (Strongid)
November 1: Ivermectin + Praziquantel (Equimax, Zimectrin Gold)
High Shedders (>500 Eggs Per Gram of Feces)
March 1: Ivermectin
May 1: Pyrantel (Strongid)
August 1: Ivermectin
November 1: Ivermectin + Praziquantel (Equimax, Zimectrin Gold)
*Recommend feeding your horse after deworming.
Protocol for Foals, Weanlings, and Horses Less Than 3 years old:
Day 0 – Mare should be dewormed at foaling with Ivermectin
3 months – Panacur double dose
6 months – Ivermectin
9 months – Pyrantel double dose (for tapeworms)
12 months – Ivermectin
After 12 months, deworm as you would a Medium Shedder:

May 1: Ivermectin
August 1: Pyrantel or Benzimidazole
November 1: Ivermectin + Praziquantel
At the age of 3, deworm based on Fecal Egg Count (FEC). Do a fecal test at least 12 weeks after last deworming to determine the protocol.